Your Health
Stay apart to stay safe from COVID-19
"We cooperate, not relax" campaign launched by Ministry of Health.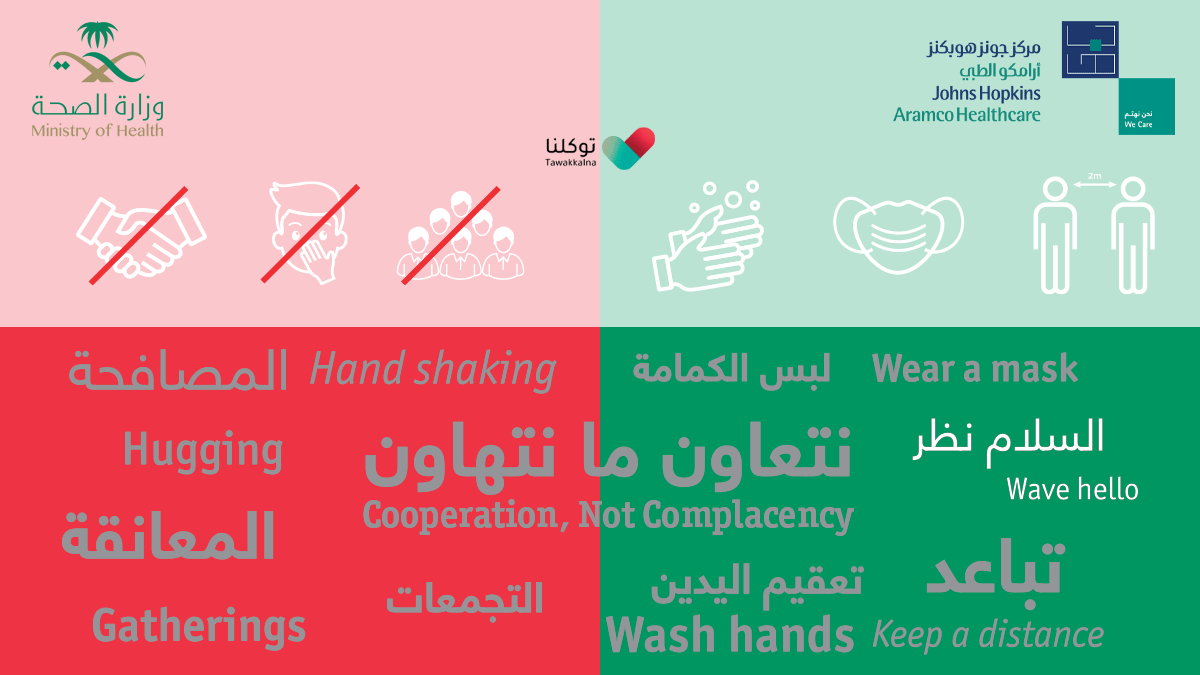 Johns Hopkins Aramco Healthcare urges support for the Ministry of Health's campaign to stop the rise in COVID-19 infections.
The Ministry of Health (MOH) has launched a new awareness campaign, "Nata'wan ma Natahawan." The campaign slogan can be understood as "We cooperate, not relax;" and reflects the nationwide drive to encourage full adherence to precautionary measures to prevent and stop COVID-19 transmission.
This action comes as the MOH continues to respond to an upward trend in new cases throughout January and February.
The increasing cases of COVID-19 reinforce the need for compliance and cooperation with infection prevention behaviors.
Key behaviors to stop the spread of COVID-19
• Avoid gatherings
• Watch your distance
• Wear a mask
• Wash or sanitize your hands
• Get vaccinated against COVID-19 and continue to observe infection control behaviors
• Download and use the Tawwakalna application.
"While there may be multiple contributing factors to the increased number of COVID-19 infections, the solution is straightforward. We must follow the infection prevention guidance from the MOH," commented Dr. Jaffar Al-Tawfiq, Johns Hopkins Aramco Healthcare COVID-19 incident commander, director of Infection Control.
Keep yourself and your loved ones safe until we can expand the COVID-19 vaccination program to reach everyone and stop the COVID-19 pandemic.
– Dr. Jaffar Al-Tawfiq